A Cute 1st Birthday Poem
We all know babies are priceless. This cute 1st Birthday Poem will make everyone laugh. I hope you enjoy and share with a precious one year old. I actually engraved this birthday poem onto a truck plaque for my nephew Sebastian. Now he's three and he's still very passionate about large construction trucks. I know who I will hire to build my next home :)
Number One
You are one,
Let's have some fun.
Teddies or blocks,
Where are your socks?
Milk tastes so sweet,
With honey and heat.
Today we will play,
With Sunshine and day.
We wish you the best,
As you grow healthy, no less.
Has it been a year?
We love you our dear.
By Martin Dejnicki
These birthday poems may be used and shared in various ways.
Baby Life
A birthday cartoon,
With a special balloon.
One candle and cake,
A bottle to shake.
Toys big and small,
A very quick crawl.
Never ending diapers,
Lots of baby wipers.
All want to hold,
Cutest one year old.
Just craves some sleep,
And mommy to keep.
Babies are not only cute. They are also precious and bring joy into our lives. A poem could make this special occasion even more special.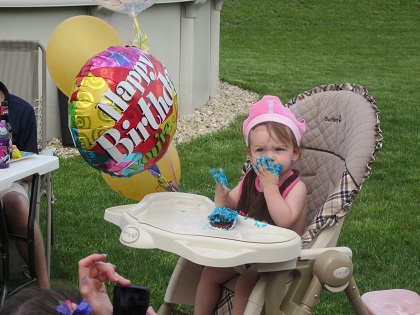 We Remember 1st Birthday Poem
We celebrate with you today,
The Anniversary of wombs dismay,
She screamed and yelled, with a lions roar,
Her cries were silenced, with a baby's snore.
You crawled and fell your way upright,
We smiled with joy, a gorgeous sight!
And now you're one, on this special day,
We love you more, than we could ever say.
By Martin Dejnicki
Last summer, I shared this poem with a friends adorable Ria, on her first birthday. This sweetheart has so much energy. She's always running around with a smile on her face. 
What about Birthday Poem invitations ideas? I actually found a little great site that has a lot of different types of invitations. My sister Anna used some of the ideas to create really great looking 1st birthday invitations for little Sebastians birthday. 
---
We have several hundred poems available to read. To view a complete list of all our poem categories, please review the Site Map area.
As we mentioned, all of our poems are Free! However, we do have a few limitations as to specific type of use, so we can continue with this practice. Please follow this link to Terms of Use for the relevant details.
---
1st Birthday Poem to Special Birthday Poems