21st Birthday Poems
These 21st birthday poems will definitely make you laugh. Don't you agree that a 21st birthday is an important milestone? I know what you're thinking - More Responsibilities. The poem below reminds us of our childhood and hints at this stage in life as being a transition. 
Memorable Transition
Childhood like a distant boat,
Course taken, others wrote.
Rebelled from your chosen way,
Winds and waves aided; youth astray.
Swan-like elegance, grew-up brisk,
Memories remain on a disk.
Unique and random, cannot deny,
With each passing day - Glorify!
Now at the age of twenty-one,
Life has truly just begun.
Hope and wish, your dreams come true,
Along the way, a gorgeous view.
By Martin Dejnicki


Do you think this 21st birthday poems will work? It sounds like a lecture. But in a mocking or funny way, so it might be OK. You be the judge. 
Sweetest Ride
Happy birthday you're twenty-one,
Young and healthy, so don't you frown.
Remember when, I was your tender age,
Walked to work; made half your wage.
Now you're legal in every State,
Avoid the keys, if intoxicate.
Is it worth, to risk it all?
What should I wear, to my funeral?
Don't give up, there's still a chance,
Give life more, than a casual glance.
Faith and hope are on your side,
Trust your gut; sweetest ride.
Some 21st birthday poems can be truly unique. Just like the next one that is filled with party ideas for a 21st birthday. It hints at some of the things you may do. But no matter what you do, your family and friends will be there for you. In the end, all you really need is just a simple barbecue. Are you looking for 21st birthday poems that will give a little bit of advice? Then try the poem below:)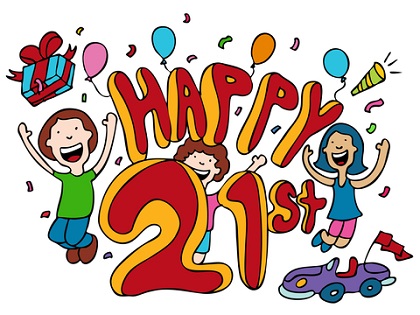 Wisdom
21 candles finally are here,
I must admit, I waited all year.
So many obstacles, around tried to steer,
Passion for greatness; truly sincere!
A bit more mature, mind fairly clear,
Path in the making; future career.
Wisdom chooses an open ear,
Your charming smile, people adhere.
Youthfully bold, conquer your fear,
Never hesitate to shed a new tear.
Your beautiful actions, many revere,
A trusting shoulder, always hold near.
By Martin Dejnicki
One of my favorite 21st birthday poems was submitted by Chloe McEwen. I think it's absolutely wonderful. Chloe did a really great job.
21st Birthday Poems
It's your birthday time again;
It's true; there's no denying,
Another year has come and gone;
You know that I'm not lying.
I want to recall
The adventures we've had,
The friendship we've shared
Through the good times and bad.
We've grown up together
For twenty-one years,
Through dreams and through happiness
Through laughter and through tears.
We dreamed of great riches,
We welcomed good luck
And chocolate ice cream
From the good humor truck.
Our conversations on the phone,
Exchanging both our thrills.
You know I often wonder
How we ever paid those bills!!
So for you, the birthday person,
Here's what I want to say:
I hope this birthday's the best one yet,
In every delightful way.
So happy birthday to you.
Have lots of birthday fun!
May your birthday wishes all come true,
Even if you have a ton.
By Chloe McEwen
21 Today
21st Birthday today,
Your old age has been swept away.
21 today, hooray, hooray, hooray.

Walking like a swan down your party isle,
Like a bird flapping off into the wild.
By Jacob Doughty /


---
We have several hundred poems available to read. To view a complete list of all our poem categories, please review the Site Map area. 
As we mentioned, all of our poems are Free! However, we do have a few limitations as to specific type of use, so we can continue with this practice. Please follow this link to Terms of Use for the relevant details.

---
21st Birthday Poems to Special Birthday Poems