Choose a 50th Birthday Poem

Do you think sharing a 50th birthday poem is a good idea? I think it's a GREAT idea.
That is, if the person is turning 50. Ok bad joke:)
Over The Hill
You're over the hill,
So take a pill.
Aches and pains,
Always complains.
Supermarket clothes,
Everyone knows.
Children's taxi service,
Won't make you nervous.
Youth of old age,
Demand the best wage.
Relax and chill,
You're over the hill.
By Martin Dejnicki
Last year, I gave "Over The Hill" to my mother. She absolutely loved it. She framed the 50th birthday poem and proudly placed it on her wall. I just changed children's taxi service to grandchildren's taxi service in the second stanza. 

You're probably looking for a funny birthday poem? Am I right? A 50th birthday funny poem that will generate laughter and smiles.

At 50
Empathy, the greatest virtue of all,
Memorable situations to recall.
Have no shame, if you don't know,
With humble honesty, you will glow.
Odds of keeping, an open mind,
Same as waistline, that is kind.
Actions stronger than words,
Don't need to follow the herds.
Never gave up, on your kids,
Learned to pick, the right forbids.
Finally, the puzzle came together,
You survived intensive weather.
The birthday poems you just read mentions a few traits that fifty year olds learned or acquired over the years. Do you agree? The next 50th birthday poem may be shared with anyone with a big sense of humor. Ideally, with someone who is still quite immature, (like my aunt Teresa). Well, this birthday poem is for you Teresa. Thank you for making all of us laugh so much, over the years. Now it's your turn:)

Big "Five-O"
You have made it, to the big "Five-O",
Born and raised, many ages ago.
Tried to influence at least a million,
Mirror succeeded, only one civilian.
Now at fifty, you might need a cane,
Trade it for your aging brain.
Cannot decipher, without reading glasses,
All those discounted, subway passes.
Adult diapers, you must invest,
Extra layers we suggest.
So many candles, on that cake,
If you count, I won't stay awake.
Don't worry you're not losing your mind,
If you forget, I'll try to remind.
After fifty years; still immature,
Unfortunately, they don't have a cure.
By Martin Dejnicki
50th Birthday Poem Invitation 
It's my birthday and I'm turning fifty,
We'll sit outside and cook on the grill,
There will be lots of food we'll have a great meal,
Jeff will do the cooking no it'll be me,
No gifts do I want just you to be there,
Just come and have fun and show that you care,
I'll bake a cake it'll have to be a biggie,
To hold all those candles I'm going to be fifty!
So come and have fun and we'll sit for awhile,
We'll chit and we'll chat and make everybody smile,
So if I forget which I sometimes do,
You made my birthday special and I want too,
50th birthday poem By Dena Vogel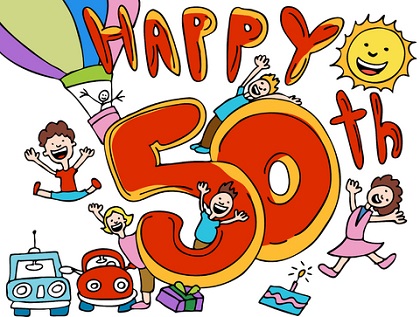 Happy 52nd
Life will shine with the light of happiness,
Music and laughter will fill your days,
Success and health walk side by side,
As you pass another bright sign.
51 it says all glittery and cute,
52's ahead, but this I'll tell you,
Walk on fast but do enjoy,
The year that's coming is full of joy.
For all the love you have given,
For all the hope you have spread,
Your 52nd year will reflect,
All the times you've been blessed.
With all the love in the world,
We stand beside you hand in hand,
Pillars of strength to hold you high,
Trust us mum, we'll never let you stumble or cry.
Hold our hands, walk with us,
Don't let go we love your heart and soul,
Lets walk on through the gate to the 52nd year,
I'm sure it'll be worth the wait.
Happy B'day (We love you)
By Bhagirathy Pillai 
Halfway There!
Happy birthday, you're halfway there,
A little tune-up, minor repair.
Avoid dormancy, do what you wish,
For your health, eat plenty of fish.
Happy birthday, you're halfway there,
Your experiences, repeatedly share.
Hidden messages; lessons learned,
So many chapters, you have turned.
Happy birthday, you're halfway there,
Try to relax, fight off despair.
Made it to halftime; finish the game,
Underneath that grin, I still see a flame.
By Martin Dejnicki
Happy 50th Birthday My Love
I have waited for this day all year,
To celebrate your 50th birthday, my dear.
My love for you, words cannot explain,
I will always cherish; our dances in the rain.
When we are just a day apart,
I feel so empty and sad, in my heart.
You mean absolutely, everything to me,
With you by my side, I feel so free.
On this very special day, I just want to say,
Happy 50th Birthday my love, here's a Hug and Kiss
By Terri Ilene Sevrinsky
click here to read a few funny fiftieth birthday poems


---
We have several hundred poems available to read. To view a complete list of all our poem categories, please review the Site Map area.
As we mentioned, all of our poems are Free! However, we do have a few limitations as to specific type of use, so we can continue with this practice. Please follow this link to Terms of Use for the relevant details.
---

50th Birthday Poem to Special Birthday Poems